Disclaimer: I am a paid consultant for Split Rock Scientific, a company that has developed the SleepAssure System that I discuss in this post. I am a part owner of Split Rock Scientific and have been working with the company for the past 2 1/2 years on this project.
The processes of innovation and research are some of the most interesting parts of my work life, as being around fresh ideas and new insights is exhilarating and energizing. My personal involvement has centered on the sleep field, but it is impressive how often it is someone with no previous experience in a medical field that makes a tremendous breakthrough with their new perspective.
This is the story of Split Rock Scientific and the SleepAssure System. Dr. Chris Hermanson, an emergency medicine physician who has developed devices across a range of medical specialties, conceived of the idea of using our natural taste reflexes to improve sleep. He has assembled a team of leaders in the field of sleep, dentistry, and taste science to develop the SleepAssure System. The throat is effectively a tube surrounded by muscles, including the muscles that make up the tongue. In sleep, the muscles in our body relax, allowing the tongue to fall backwards and disrupt our sleep. The SleepAssure System introduces a pleasant flavor inside the front of the mouth during sleep, utilizing our body's reflexes to move the tongue forward toward this flavor. By preventing the tongue from falling backwards, the SleepAssure System can improve sleep and may be effective for snoring and obstructive sleep apnea. We at Split Rock Scientific have been encouraged by the early data that suggest that the SleepAssure System moves the tongue forward and improves the quality of sleep with an unique approach that is simple, comfortable, safe, and easy to use.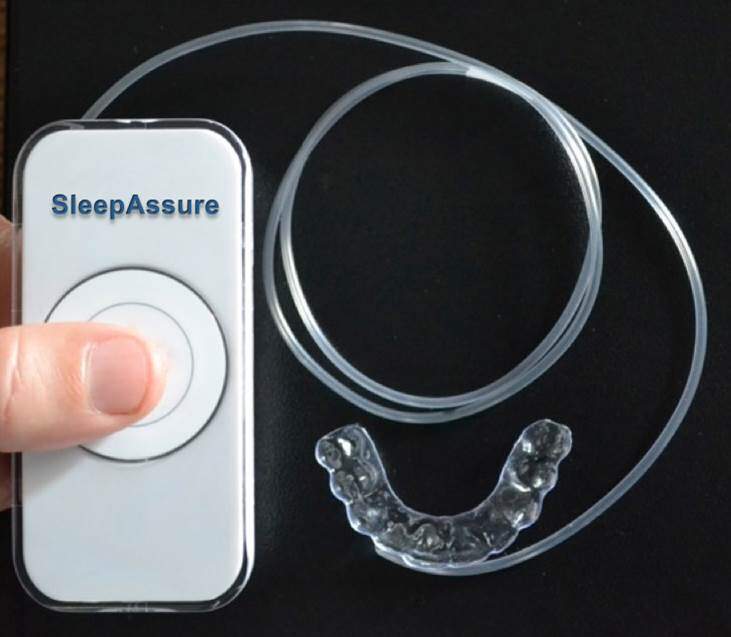 Crowdfunding and making this idea for sleep apnea treatment a reality
At this point, we are not making any claims that SleepAssure will improve snoring or obstructive sleep apnea. That will require larger studies that must be approved by the Food and Drug Administration. Similar to other great ideas, it will require resources for development. Traditional approaches for funding medical device development have used large investors and years of development before a device can be made available to the public. Unfortunately, many innovative ideas have been delayed or never developed. To simplify the transition from great idea to reality, over the past few years the technique of crowdfunding has utilized the Internet to raise funds. Crowdfunding is the coming together of a number of people to support the work of others, and the website most closely associated with crowdfunding is Kickstarter. Kickstarter has enabled individuals to support everything from amazing philanthropic endeavors like disaster relief to production of Oscar-winning movies to consumer devices to groundbreaking scientific research–and much more. To provide an estimate of the scale of crowdfunding, Kickstarter reports that in 2013 on their site alone, over 3 million people from 214 countries contributed over $480 million.
The Indiegogo SleepAssure campaign
The time has come for crowdfunding to support medical device company startups, especially those that do not require tremendous investments. Medical devices cannot post campaigns on Kickstarter, but Indiegogo is perhaps the most well-known website for medical device crowdfunding. The SleepAssure campaign launches today on Indiegogo and will remain open for 60 days, with a target raise of $85,000. This will fund development of the early version of the SleepAssure system (that will be shipped to those who purchase it through the campaign in approximately 6 months) and also enable collection of data to support an FDA-approved trial for snoring.
I hope you take the opportunity to learn more about the SleepAssure System on Indiegogo.
Please feel free to ask me any questions in the Comments section below.